July 16, 2020 |
Hospitality Team

Meet
Dominique Lafon
Consulting Winemaker
Best known as the namesake, director, and winemaker of one of the great estates of Meursault, Dominique is a descendant of Jules Lafon, who created the revered wine festival, La Paulée. After taking over his family's domaine in the 1980s, Dominique revitalized its red and white winemaking approach. In 2015, after a long friendship with Larry, Dominique joined Lingua Franca as Consulting Winemaker and works with the team to oversee winemaking and vineyard operations.
Can you tell us about your first memory of enjoying wine? What was your first job in the wine industry?
"As far as enjoying wine, the situation is pretty different when you are born in Burgundy... I have always seen wine on a table and had access to it. Wine was always a normal part of life and at that time I didn't see it as anything special. Later in 1981, I had my first job as a cellar intern in California and became close friends with wine industry veterans Mel Knox and Jim Olsen, both long-time wine collectors and big fans of Burgundy. This made me realize how special Burgundy was and prompted me to take over my family estate. This also happens to be around the same time that I first visited Oregon!"

You've said that your interest in wine starts with agriculture. What are the main differences you've seen between the vineyards in the Willamette Valley and those in Burgundy?
"Burgundy and the Willamette Valley share the same grape varietals and the same cool climate, however the weather patterns are often quite different: in Oregon, after bloom, it's sunny almost every day, but in Burgundy, it's not uncommon to see a fair amount of rain or overcast weather during the ripening season. Oregon also sees much less disease pressure and the vines are easier to manage because they're planted farther apart leaving more space for tractors, plowing and hand work. In Burgundy, we are required to plant 10,000 vines per hectare by law making the vineyard feel more condensed. The Eola-Amity Hills AVA where the LF Estate Vineyard is located gets those amazing breezes from the Pacific ocean all summer, which enhances the flavor profile of the wines."

What have you learned from your time as a consulting winemaker in Oregon?
"I have learned that you can't apply all your tricks that work well in Burgundy. The goal is to achieve great Oregon wines, not a pale copy of Burgundy. Overtime I have learned more and more about the sense of place, with all its potential. Honestly, it feeds my knowledge, and I feel stronger in Burgundy now that I have faced new places, new questions."
What do you like to do outside of work?
"I am an outdoorsy person. I like to walk, bike, ride horses, swim, sail and ski. I like the ocean as much as the mountains! I also enjoy good food whether at home or in restaurant and I listen to a lot of music, from rock and roll (The Rolling Stones, Bob Dylan, Neil Young) to quite a bit of jazz (Miles Davis and Chet Baker) to traditional French music (Georges Brassens, Léo Ferré, Alain Bashung). I wish I had time to play an instrument like the piano or guitar. I read a lot too; I've been living without a TV at home for more than 20 years."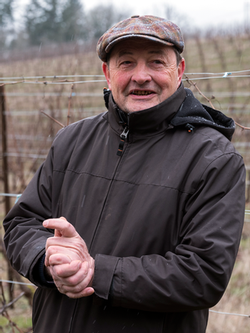 What are you drinking at home these days?
"If I could get enough, I would drink the 2016 Bunker Hill Chardonnay, one of my favorite Chardonnays we've produced. Because many of the Lingua Franca Chardonnays are made in limited quantities and there is often such a high demand, I often find myself drinking White Burgundies (it happens I have quite a few bottles!). In the spring and summer, I switch to drinking Riesling, German or Alsatian, and sometimes Chenin Blanc. But I cannot live without Pinot Noir, which represents about 80% of my red wine consumption!"
---
Tune in Saturday, July 18th at 11:00 am (PST) to hear Dominique participate in a webinar moderated by New York Times Wine Critic, Eric Asimov. Click here for more details.