July 3, 2020 | Hospitality Team
Meet the Team, Part Seven

Meet
Joe Ferris
Cellar Master
Born and raised in Wisconsin, Joe spent several years working as a biomedical engineer in Los Angeles; however, his travels to wine country on the West Coast and abroad motivated him to rethink his path in life. After working a harvest in Paso Robles, Joe fell in love with winemaking and made the decision to switch careers. He went back to school to earn a viticulture and enology master's degree at UC Davis, and after graduating he worked harvests on the Sonoma Coast as well as abroad in Germany and New Zealand. Upon returning stateside, Joe put down roots in the Willamette Valley and joined our winemaking team in 2018 as Cellar Master.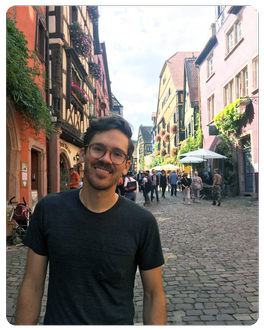 What were you doing before you got into the wine industry?
"Prior to switching careers, I was working as a biomedical engineer at a medical device company in Los Angeles, CA. To be a little more specific, I provided pacemaker and implantable cardioverter-defibrillator (ICD) technical support for our sales team, physicians, and patients. During this time, I was also accepted into medical school in Chicago. My partner (now wife) Molly and I were enjoying the West Coast, traveling to wine regions and enjoying the great outdoors. I was at a crossroads in my life, and I did a lot of reflecting and meditating on my career choices and my work-life dynamic. In the end, I made the decision to turn down a career in medicine in order to pursue a lifestyle that combines science, art, family and community... wine!"
What was your 'epiphany' wine and do you remember that moment? "Not to side-step this question, but I don't really have an "ah-ha" wine that sent me on this path. Instead, I would say that I was captivated by a specific wine region during one of my international harvest internships: the Pfalz region of Germany, which is known for their amazing dry Rieslings. While working at Weingut Pflüger (a multi-generational winemaking family) in Bad Dürkheim, I witnessed first-hand how wine and community are intertwined. We ate and drank wine every lunch with family and friends, served wine spritzers at a stand at Wurstmarkt, the world's largest wine festival, and joined in on many of the other local festivities. I did also, of course, drink some spectacular Rieslings from some historic vineyards in the area, such as Pechstein and Kirchenstück."

What do you like doing outside of work?
"I enjoy spending time with my wife Molly and our newly adopted pup named Sir Felton John, cooking, and drinking good wine with friends. It's a bit dorky, but I also love to read viticulture and enology research papers, and I'm part of a journal club that meets regularly."
What are you enjoying drinking these days?
"My wife and I have been really into Italian wines, specifically Nebbiolo from Valtellina; these wines are bright, floral, and elegant... and much cheaper than their cousins in Barolo and Barbaresco. I've also been digging the "newish" trend of canned cocktails to kick off the summer patio sessions, with the Apicco Spritz from Straightaway Cocktails here in Portland as one of my faves."