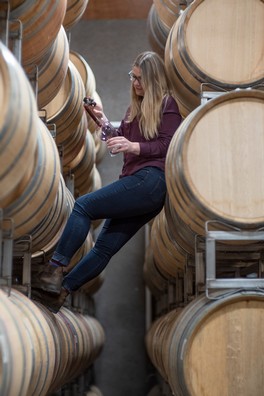 Meet
Kim Abrahams
Assistant
Winemaker
Kim joined Lingua Franca as Assistant Winemaker in early 2017. Born and raised in Louisiana, Kimberly made the decision to pack up and move west as a recent business school graduate after a stint working in the wine distribution world. "There, I was introduced to the vast world of wine, spirits and beer. Wine grabbed my attention and it never let go." Her newly found passion led her across the country and around the world, before she landed here in Oregon.
"Everything at Lingua Franca is a group effort, we look to all members of the winemaking team for input on our wines."
In the beginning, Kim did it all, from helping to establish systems, to packing, shipping and delivering wine, to hosting tastings, all while getting to know our vineyards and wines. Over the years her role has evolved. She now helps manage our growing winemaking team and assists with day to day operations with Winemaker Thomas Savre's direction. During harvest Kim begins with a laser focus on our Chardonnays, and once they are all happily fermenting, she quickly shifts over to Pinot Noir.
"We are continually improving and getting to know our vineyards more and more each year. I spend a lot of my time in the vineyards, and in the beautiful green spaces surrounding the winery, which we hope to call 'the farm' one day."
Kim also tends to our four new beehives. We have partnered with Jacobsen Salt's beekeeper, Emily Schmiedel, through their Bee Local program to learn sustainable beekeeping and begin harvesting our own estate honey next year.
"I am proud that here at Lingua Franca we are contributing to saving the bees! I look forward to the day we are able to harvest honey but for now I am appreciating them buzzing about, collecting pollen and watching all the new baby bees emerge."
What are you enjoying drinking these days?
"Needless to say there is always wine on the table. Recently it's been a lot of Jolie-Laide Wines out of Sebastopol, California. The Trousseau Gris and Melon de Bourgogne are incredibly tasty and go with just about anything we've cooked for the evening. My husband is also a winemaker, so we do a lot of blind tasting around the dinner table, sometimes classic wines and sometimes obscure varietals. Our nightcap is Domaine Roulot L'Abricot, Apricot Liqueur. It will change your life . . . Trust me."

What do you like to do when you're not at Lingua Franca?
"There are two places you can usually find me when I'm not at work: in my garden and roaming the coastal range for mushrooms, always accompanied by my pup Cedar Roux. Gardening pushes me to be more patient and creative, every year something succeeds and something fails. I have a tendency to go all in; I've currently got twenty-five different types of tomatoes waiting to go into the ground.
"The bounty of the Pacific Northwest is all-giving when you find the right spot. That feeling of finding a patch of chanterelles — pure excitement, where nothing else matters in that moment. I like to call mushroom hunting adult treasure hunting, though it always makes me feel like a kid again. The meals to follow are always mind blowing and a reminder that nature provides for us when you allow it to.