November 6, 2020 |
Hospitality Team

Meet
Chase Martin
Cellar Hand
Born and raised in western Colorado, Chase found his way to the Pacific Northwest during college. He graduated from Whitman College in the heart of Washington's Walla Walla wine country, earning a degree in Chemistry and Geology with a concentration in groundwater modeling. Chase fell in love with the wine industry while at school, and decided to use his scientific background to work in vineyard data collection and analytics. After graduating, he worked in Napa and Sonoma counties for a company focused on helping winegrowers improve grape quality and adapt to climate change using plant-based data solutions. In 2019, he moved to Portland with the dream of trying his hand in wine production. That same Fall, Chase worked the harvest as an intern here at Lingua Franca before joining the team as our full time Cellar Hand.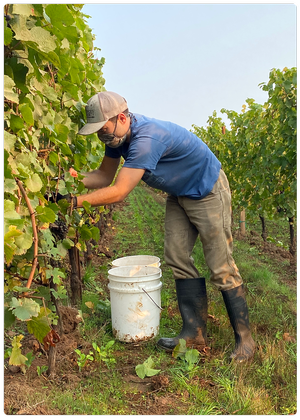 What's a favorite memory from the 2019 harvest, your first harvest with Lingua Franca?
"I have a distinct memory from the 2019 harvest when our Assistant Winemaker, Kim, and a fellow harvest intern at the time, Samantha, and I spent an entire day topping up each barrel of individually fermenting chardonnay. The fermentations were bubbling away, so the cellar was warm and cozy and had the wonderful smell of barrel-fermented chardonnay. We had pop music playing over the speaker, and we laughed and danced as we worked. That was an inspiring moment where I realized just how much energy and love our team puts into each barrel of wine. I'm excited to work everyday with that kind of positive energy in the cellar!"

What do you enjoy doing during your spare time outside of work
"While not producing wine, drinking wine, reading about wine, or listening to wine-related podcasts on my commute, I most enjoy spending time in the outdoors with friends and family. Whether on foot, ski, bike, or boat, I love exploring the wild corners of Oregon and beyond with my wife, Molly. Most recently we've been spending a lot of time gravel biking in many of our local Oregon forests, and dreaming up a post-harvest rafting and fly-fishing adventure."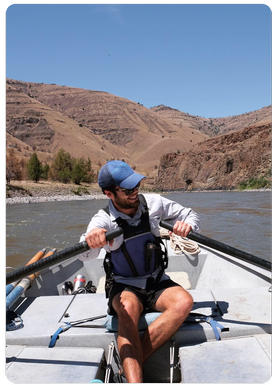 What are you enjoying drinking these days?
"As fall settles in, the cold temperatures remind me of time spent among the golden Aspen trees of southern Colorado and northern New Mexico. One of my favorite go-to drinks for fall is called a Chimayó, a cocktailfrom the Rancho de Chimayó restaurant nestled in the hills between Santa Fe and Taos. Fresh apple cider is the key ingredient, mixed with your favorite repasodo tequila, some lemon or lime, and finished with crème de cassis. It is my drink of choice for sitting on the deck in the crisp fall sun."
What's your favorite go-to wine accessory at home?
"While I could highlight a favorite glass shape or corkscrew, to be honest, my favorite wine accessory wandered its way into my life two years ago at Christmas thanks to my older sister. My family loves cats, which my sister chose to celebrate by gifting me small, colorful, rubber cats that curl around the stem of a wineglass to help its user keep track of it. While perhaps not the classic wine accessory they are certainly unique and helpful during a dinner party. I can't wait to use them again when we can someday gather in groups."