August 15, 2020 |
Hospitality Team

Meet
Amanda McNichols
Club Membership Manager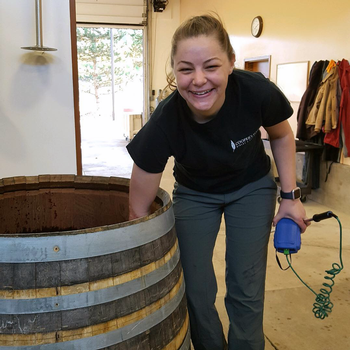 Amanda was born and raised in Tampa, Florida, where she was first exposed to the world of wine while working in a high-end restaurant to help pay for college. She was eager to learn more, so while pursuing her Bachelor's Degree, she travelled to Florence, Italy to continue her wine studies at th e Apicius School of Hospitality. Upon graduation, she continued serving wine on the weekends at a local tasting room, while also working full-time for the Florida Legislature. She left the political world for good in 2018 after earning her Wine & Spirit Education Trust Level 3 certification. Amanda worked the 2018 harvest in the Willamette Valley at Trisaetum and has since decided to make Oregon her permanent home. She was drawn to Lingua Franca after falling in love with the Bunker Hill Chardonnay in a blind tasting.
What was your 'epiphany' wine and what do you remember about that moment?
"In late 2017, I attended classes for my Wine and Spirit Education certification in Tampa. Our instructor was a Riesling fanatic, so she included a b ottle of 2015 Weingut Clemens Busch Marienburg Falkenlay Riesling in our week of blindtastings. That first sip stopped my world. Less than a year later, in September of 2018, I had the distinct privilege of "calling" this wine from top to bottom during a blind tasting at Trisaetum. Weingut Clemens Busch is a small, biodynamic winery in the Mosel that I one day hope to visit. I also tasted a Lingua Franca Chardonnay for the first time in one of those daily blind tastings, and it was in that moment that I decided I'd do whatever it took to become part of the LF team!"
What are you enjoying drinking these days?
"Cava! Sparkling wines have always been a favorite while relaxing at home. Also, I often enjoy simple apertif cocktails like Cocchi Americano and soda with a twist of orange."
What do you enjoy doing during your spare time outside of work?
"If I'm not at work you'll often find me in one of two places: on our 20-acre farm caring for our many animals, or out hiking with my pup, Ziggie. I like to search for waterfalls out on the Oregon Coast."
What are you looking forward to taking on now that you've stepped into the Club Membership Manager role?
"The most exciting part about my new role as Club Membership Manager is our members! As I get to know them, I'm reminded of the unique connection we all have — a passion for the exceptional wines our winemaking team works tirelessly on. Getting to know our members fuels me to find ways to constantly innovate and elevate our wine club experience. My goal is to translate the labor and love for the extraordinary piece of land we've found in more ways than the wine alone. Every day that I walk onto our estate I feel inspired; there is an energy here that I am eager to share, especially with those that haven't yet seen it first hand."