October 9, 2020 | Hospitality Team
Meet the Team, Part 10

Meet
Michael Cheng
DTC & Hospitality Manager
Michael, originally from Minnesota, was first exposed to fine wine while in Europe as part of his studies of Spanish Language and Global Cultures. Indulging his lifelong interest in gastronomy, he quickly became a savvy and knowledgeable consumer. Uninspired by office work, Michael set his mind to pursue work in the wine industry, achieved the WSET Level 3, then relocated to Oregon. His studies deepened through his work in Wine Education with one of the Willamette Valley's founding producers, including working the 2018 harvest, before joining the Lingua Franca team in early 2019.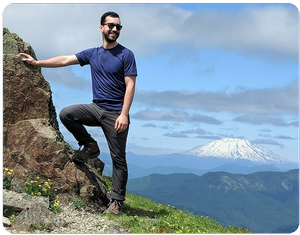 What do you enjoy doing during your spare time outside of work?
"I enjoy spending time in nature, particularly in the mountains. Travel, whenever possible, has always been important for me as a way to widen my perspective and explore the world. At the beginning of this year, I spent a few weeks in Colombia, and look forward to my next adventure when travel is once again possible."
What is one of your favorite memories of enjoying wine?
"I was in Milan in 2015 and went out for Aperitivo (happy hour) at Cantine Isola, an old wine shop and bar. I ordered a glass of some old Amarone, ate from the communal platters of antipasti, and chatted in very broken Italian with the various business people, who had just gotten off work and were meeting to enjoy a beautiful evening together. I was left feeling awestruck by the warmth and joy in the room, as family, friends, and even American strangers gathered to share food and drinks."

What are you drinking these days?
"Bubbly. In trying times, it's important to find times of joy and celebration, and I find that popping corks and pouring sparkling wine always lifts my spirits. My go-to domestic producer is the reliable Roederer Estate Brut (half-bottles for guilt-free drinking), but Old World classics are hard to beat."
What's your favorite go-to wine accessory at home?"Perhaps not an accessory, but the books The Oxford Companion to Wine and the World Atlas of Wine are indispensable tools to bring me greater understanding of whatever is in my glass."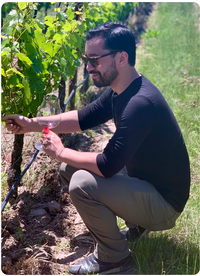 You're studying for your WSET Diploma. Why are you interested in pursuing this certification?
"The WSET Diploma is a certification that provides an understanding of the global wine industry that is both broad and deep. The strong academic focus of this program appeals to my drive for deep understanding - making connections and knowing the "why" and "how" of things. I hope to continue my studies in pursuit of the Master of Wine qualification."
---
Click here to inquire about a tasting of our current releases with Michael.