April 23, 2020 | Hospitality Team
Meet the Team, Part Two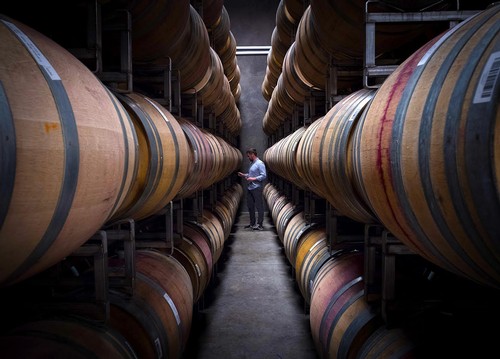 Meet

Thomas Savre,

Winemaker
Thomas is a native of Nancy, in northeast France. He joined Lingua Franca as our very first employee in May 2015. Prior to moving to the States, Thomas graduated from the Jules Guyot Institute at the University of Burgundy with two master's degrees in Viticulture Practices and Enology & Winemaking. He then worked in several prestigious estates in Burgundy, including Domaine de la Romanée Conti, Domaine Dujac, among others.
So, Why Oregon?
One Saturday morning at Domaine de la Romanée Conti during the 2012 harvest, Thomas tasted a 1995 Cristom Marjorie Vineyard Pinot Noir.
"I still get goose bumps recalling the moment I tasted it for the first time. It was one of the best wines I'd ever had. That experience led me to search for wines from Oregon – anywhere and everywhere I could."
While pursuing his master's degrees in Dijon, Thomas interned for a large producer in California. It was there that he met his wife-to-be, Aimee, who was his ultimate reason for moving to the States. Eager to continue winemaking in the New World, he went on to work for Evening Land Vineyards, where he met Larry and worked side-by-side with renowned Burgundian producer Dominique Lafon. He immediately fell in love with the Eola-Amity Hills and was thrilled about the opportunity to stay when Larry approached him about planting a vineyard next door to Evening Land's Seven Springs, with Dominique overseeing as Consulting Winemaker.

What is your favorite part of your job as a winemaker?
My favorite part of the winemaking process is harvest each year. The grueling 14-hour days and non-stop physical movement are a reward months in the making — I finally get to see clusters from the vines we spend so much time carefully and diligently tending. And Oregon is always ready to throw a challenge my way, each vintage is a different experience due to both our annual weather variation and the unique place that is the Lingua Franca Estate vineyard."
As the vineyard is developing, which blocks are showing to be the most unique?
"I have worked tirelessly to understand the terroir of the Estate and make exceptional wine from the young vineyard, something I honestly believe proves the site is itself exceptional. As the vineyard evolves, I try to examine how each individual block is developing its own personality. I want to honor all of this complexity by creating single block wines, like The Plow. The Plow is sourced from the highest elevation blocks of the vineyard, where soils are shallower and there is a sharp slope. La Bête Pinot Noir is another ode to this intent, comprised of darker and more tannic fruit from the middle of the vineyard, it is a strikingly different take on the same hillside."
Can you tell us more about how you create the final blends every year? "When creating the blends, I really want to highlight my respect for the foundation of our site, which is the goal with our Estate wines. The parcels ferment and age separately to promote their own distinctive character before the team determines how best to create the final blends. We taste blind, in order to encourage humility for every barrel and give each parcel the chance to shine. The blind blending process improves every year as our team continues to grow alongside the vineyard. We don't always immediately agree, which is the most fun part of it all! The spirited debates remind me of the passion and dedication that we all carry with us into the cellar every day."
How does it feel to work so closely with some of the most prestigious names in the wine industry?
"At Lingua Franca, I have always said that I am lucky to have four dads: There's my actual father, who has always respected my decision to be a winemaker; Larry Stone, who has given me this great opportunity; Lingua Franca's co-founder and CFO David Honig; and Dominique, who has served as a life-long mentor as if I were his own son. For me this is very beautiful. I have worked hard to respect the vision of Larry using the knowledge that I have learned from Dominique."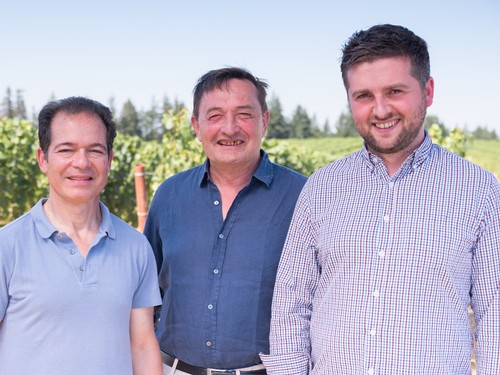 You mentioned that Dominique has served as a life-long mentor. Can you tell us a little bit about how his mentorship has influenced the winemaking at Lingua Franca?
"Dominique doesn't dictate what we do. There's a lot of trust. He respects that Oregon is unique from Burgundy and has its own sense of place. His confidence in me has allowed me to experiment with varying winemaking processes, including whole-cluster fermentation, which I mastered during my time at Domaine de la Romanée Conti. I am grateful that I have also been encouraged to bring fresh ideas and innovative tools to the table, helping to shape the future of Lingua Franca and the LF Estate Vineyard."
Finally, what do you hope to inspire among your colleagues in the wine industry?
"I want to lead by example — making honest wine and standing by our commitment to respecting the land. We must remember that winemaking is a craft, and there is no right or wrong way to do it. I am honored when people from all over the world take the time to come and taste our wine. I will never tire of sharing what we're doing and watching their emotional connection to it.
Cheers to that, Thomas.