April 13, 2020 | Hospitality Team
Meet the Team, Part One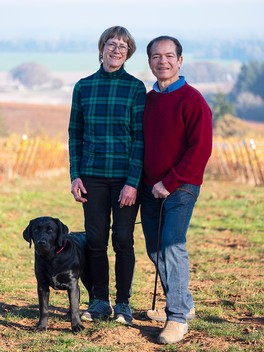 Get to Know
Larry Stone
Founder & Master Sommelier
as we share the story of Lingua Franca and some of his exclusive insights into the world of wine.
"Since my early 20s, the Willamette Valley has been the only place outside of the Cote d'Or I believed would be capable of making truly refined, vibrant and complex Pinot Noir."
Three decades ago Larry tasted the very first vintage of Seven Springs-sourced Pinot Noir, made by David Adelsheim. That bottle cemented his belief that the Eola-Amity Hills, especially between Hopewell and Zena Road, had some of the finest sites in the Willamette Valley. Years later during his tenure at Evening Land, he returned to the site that started it all. Looking across the road on that very hill, he saw what he believed was the New World equivalent of Grand Cru for both Pinot Noir and Chardonnay.
"I didn't hesitate. I sold everything to plant Lingua Franca Estate."
Larry immediately knew that it was a golden opportunity to develop an extraordinary vineyard that he says will long outlast him in the hearts of wine drinkers around the world. Click here for the full story.
What is your current favorite everyday drinking wine, and why? My wife and I like to drink a mix of light, refreshing white, sparkling and rosé wines. Domaine de Triennes Rosé is very elegant and pretty with light fruit notes and Bisol Jeio Brut Prosecco is very dry, fresh and fine. Also, Lingua Franca L'Espoir Riesling, because it is dry and totally mouthwatering. I can drink it on its own while cooking with my wife, Nancy, or have it with a lovely sautéed salmon or halibut. For reds, I am currently drinking Lingua Franca Pinot Noir most often. Occasionally we open a bottle of Sirita Napa Cabernet Franc that I made from 1997 to 2005, named in honor of my daughter, Siri. For a fresher, more lifted version of the Cabernet family we enjoy Saumur-Champigny Cabernet Franc from the Loire Valley. For more complex and medium bodied wines I choose Chianti Selvapiana or Fattoria di Bossi for the sheer pleasure of their firm, floral, irony flavor. Also, we often open Cotes du Rhone because they are quite versatile with everything from sausages to steak - for these look for St. Cosme or Guigal, or Gigondas from Brusset.
What's the best advice you can offer to those looking to expand their palate using only their neighborhood wine shop? When buying wine in a store I find that a little trust is usually repaid. Work with the staff, explain what you have enjoyed before and ask questions. Try regions and vintages you have not yet tasted, as it's the best way to expand your knowledge.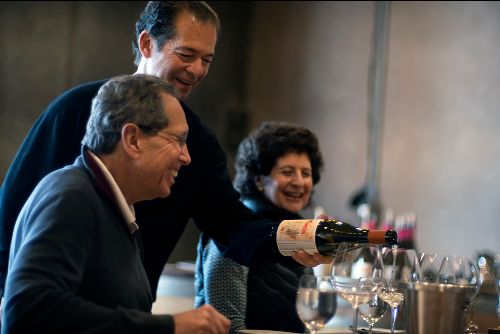 What are your most essential tools for enjoying wine at home? Besides my Cartailler-Deluc Model 92 corkscrew, it could only be my Riedel Sommelier Burgundy wine glass.
Tell us about a producer that you enjoy and would like to see more people drinking. Sohm & Kracher Grüner Veltliner from Austria is refreshing with a note of salinity, white pepper, and lemon zest. Made by one of the finest winemakers in the world and one of the world's best sommeliers, Aldo Sohm. His two most accessible types are the inexpensive and delicious "Lion", fermented and aged in stainless steel, and then the serious "Alte Reben" aged in stainless steel before being transferred to wooden casks of Slovenian oak.
Which wineries in the Willamette Valley should we also visit when planning a trip to Lingua Franca? There are many great wineries in the Willamette Valley, but try Cristom, Brooks, Walter Scott, Bergström, Beaux Frères, Brick House, Soter, Domaine Drouhin, Antica Terra, and Evening Land. Click here to view our availability and make a reservation.
Finally, given the story of how you came to find this specific site, what about the future of the Lingua Franca Estate vineyard most excites you? The most exciting thing about the Lingua Franca Estate vineyard has been how it has evolved so quickly to become our finest source of fruit. While it started out strong, Lingua Franca Estate has appreciably gained depth and complexity each of the four consecutive vintages we have harvested from it. As we release the 2018 vintage, the quality of flavors and the intensity of the wine are astonishing. In fact, each block seems to gain more character and personality every year, so I am curious to see what they will do in the years to come.